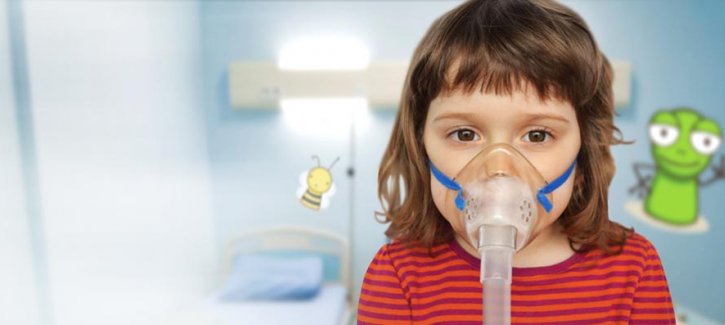 NEW ASTHMA COACH APP WINS HEALTHCARE INNOVATION AWARD
• Award-winning iPhone app and mobile website is helping many Irish asthma sufferers to manage their condition
• Asthma affects 470,000 people in Ireland - largest chronic disease group in the country
• App features range of services including detailed asthma information and instructional videos, a live pollen feed and a diary section to record asthma attacks
With the fourth highest incidence of asthma in the world, people in Ireland who suffer from this chronic condition need all the help they can get to keep their symptoms under control. A new iPhone app and mobile website is helping many Irish asthma sufferers to manage their condition while on the go, and it has just received an award for innovation in healthcare.
Asthma affects 470,000 people in Ireland - the largest chronic disease group in Ireland. Simply put, that's one in ten adults and one in five children under fourteen. Although asthma cannot be cured, it can be managed and controlled. Yet 60% of asthma sufferers in Ireland do not have their asthma under control, that's 282,000 people in Ireland today.
Asthma Coach is a groundbreaking new iPhone app (available to download free from the App Store) and mobile website (http://app.asthmasociety.ie) for all smartphones which was launched in November 2012 by the Asthma Society of Ireland, the national charity which provides services to thousands of people with asthma every year. Asthma Coach allows users to record and track their asthma symptoms and medication usage, as well as sharing information with their healthcare professional to help them to control their condition. The app was developed in partnership with the digital agency Eighty Twenty.
As a joint winner in the 'Innovation in Patient Support' category of the Biomnis Health Innovation Awards, the Asthma Coach app has been recognised as Ireland's first asthma management app, offering significant benefits to the many asthma sufferers in Ireland. The Biomnis Health Innovation award was jointly presented by Frances Fitzgerald T.D. Minister for Children and Youth Affairs to the Asthma Society of Ireland and also to the Department of Paediatrics & Child Health, Cork University Hospital for Pump 4 Kids. The Biomnis Healthcare Innovation Awards, now in their sixth year, were established to broaden awareness of the need to constantly improve standards of care and patient safety in Irish healthcare.
Asthma is a serious condition, which affects peoples' quality of life and can result in hospitalisation or, in the worst cases, death. Indeed, 62 people died from asthma in 2011 in Ireland – that's more than one person per week. Tragically, a large number of these deaths were preventable; asthma is a controllable disease with the right treatment and management. Yet 14% of people with asthma attended the Emergency Department last year, with 8% needing to be admitted to hospital.
Commenting on the award, Sharon Cosgrove, CEO of the Asthma Society of Ireland, said:
"The high prevalence of the asthma in this country means that everyone in Ireland knows someone who has asthma. People who suffer from asthma now have a new tool to help them to manage their condition on a daily basis. We are delighted that Asthma Coach has been recognised by the Biomnis Health Awards in recognition of the benefits it provides to asthma sufferers."
Asthma Coach is available as a free app for iPhone users and as a mobile website for other smartphones and tablet devices. The innovative app was designed in consultation with healthcare professionals and asthma patients.
The app is simple to use and allows users to create reminders for medical appointments, medications, vaccinations, peak flow recording and asthma control tests. Users can update personal information and contact details with a push to call function, so that the emergency services or their next of kin can be contacted at the push of a button. Users may share the diary and a graph of their asthma activities with their healthcare professional should they wish.
Useful features include:
• Detailed asthma information and instructional videos help users understand their asthma. 
• Live pollen feed allows users to monitor allergens like pollen and spores: 60 – 80 per cent of asthma sufferers also have hayfever. 
• Diary section gives users a digital space to record asthma attacks, see charts and statistics and email reports to themselves or their healthcare professional. 
• Contact medical care or next of kin in emergencies with the ICE section. 
• Users can take the validated Asthma Control Test (ACT) for both adults and children.
Live pollen feed included in Asthma Coach – benefit to 30% of people who suffer from hayfever
In addition to benefitting asthma sufferers, Asthma Coach will be useful for anyone who suffers from hayfever. Recent research commissioned by the Asthma Society of Ireland has shown that almost one third (30%) of people suffer from hayfever.
Between 60 - 80% of people who have asthma also have hayfever (allergic rhinitis). More than 1 in 10 (13%) survey participants suffer from asthma. Over one quarter (26%) of them did not know that hayfever symptoms can greatly affect asthma sufferers. The Asthma Society of Ireland is warning that people should check pollen levels before leaving home each day. The pollen forecast is available now on the Asthma Society's website http://www.asthma.ie and in the Asthma Coach app.
Both hay fever and asthma can be triggered by an allergic reaction and many of the same allergens are known to trigger both conditions. If you have asthma, hayfever can make your symptoms worse, so it is important to manage your hay fever and seek advice from your GP or pharmacist if you have concerns. People can also call the Asthma Advice Line on 1850 44 54 64 (Monday to Friday 10am – 1pm) for advice from the Asthma Society of Ireland's asthma nurse specialist on hayfever or asthma.
Dr Basil Elnazir, Chairperson of the Asthma Society of Ireland's Medical Committee and Consultant Respiratory Paediatrician at the Adelaide and Meath incorporating the National Children's Hospital said:
"Evidence on the use of an asthma management plan positively shows that they reduce morbidity in adolescents and other patients . I feel that the Asthma Coach app is very useful for all asthma patients. However, it is likely to be particularly good in encouraging teenagers with asthma to manage their own condition. There is often a difficult transition from parent management for paediatric patients to self-management for adolescents. The app also has a child mode where parents control most of the data input but children can become involved in the management of their condition from an early age, with the hope that this will lead to increased awareness and better self-management at an older age."
The Asthma Coach project was enabled through an unrestricted educational grant from the Pfizer Health Investment Initiative. The Pollen Feed is supported by Dyson.