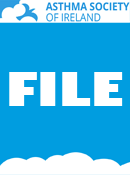 The Asthma Society of Ireland are hosting their next educational meeting for health care professionals on Tuesday 25th of April, in the Clarion Hotel, Liffey Valley. 
It will be an exciting meeting with the latest news on SLIT (sublingual immunotherapy) for grass pollen and house dust mite issues that commonly contribute to asthmatic attacks. 
Guest speakers will talk on the significance of optimal indoor air quality relating to the management of asthma, as well as covering the general benefits of monitoring asthmatic patients
 to see the full event agenda agenda
Each presentation will be approximately 30 minutes and will include a Q & A session. The evening will commence with a sit down dinner and then proceed with the topics at hand.
Click here to register or should you require any further information please mail michele.dunne@asthmasociety.
The deadline to register is Friday 21st April.
It promises to be an informative and productive meeting, so don't miss out!  The meeting is kindly being sponsored by Teva Pharmaceuticals Ireland